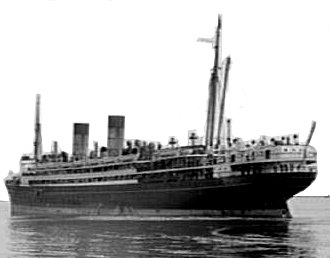 I don't know quite what was happening yesterday, but when today I tried a slightly different search interface at the National Archives of Australia, the RMS Niagara's log books popped up immediately.
Remembering that our man Reynolds was apparently only covering on the RMS Niagara for a single round trip to Canada and back between 17th February 1918 and 20th April 1918, any reference to him is probably only going to appear in a single RMS Niagara log book.
And it seems as though there's only one 1918 log book it might be: NAA item barcode 464129, a bound volume with contents dated 1917-1918 and held in Sydney, where it's on open access and marked up as "SP2/1, LOG BOOK NIAGARA". According to the overall series information, the set of log books held in NSW makes up 32.04 metres of shelfspace:-
Official Log Book(s) issued by the (United Kingdom) Board of Trade, some with Official Wireless Log attached. Entries have been kept in accordance with the provisions of the Merchant Shipping Act 1894.

History Prior/Subsequent to Transfer:
Prior to transfer: State Navigation Acts only prescribed that logs could be seized if necessary. Any so seized were held in State Shipping Master's Office and have been destroyed. The Commonwealth Navigation Act of 1912 (No. 40 of 1913) required that an official log be deposited with the Superintendent of the Mercantile Marine Office. Under a Departmental instruction of 1919, all logs other than those containing records of birth, marriages or deaths, were destroyed.
I'm also slightly intrigued by the NAA document A11803, 1918/89/729 "Correspondence (Intercepted). SS NIAGARA passengers" (1918), whatever that might be. Finally, the RMS Niagara passenger list for 20th April 1918 on arrival in Sydney (barcode 1603134 in SP83/11, specifically 8 pages in box 38) is probably exactly what Cheryl Bearden has already gone over multiple times, but you never quite know with these things. 🙂
So… who's planning to be in Sydney any time soon? And if so, what do I have to do to persuade you to have a look for young Mr H. Charles Reynolds in this particular RMS Niagara log book?