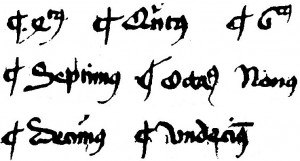 While recently looking into the 'pm9' that Thomas Sauvaget found on Cod Sang 839 & trying to understand its relation with Cod Sang 840 and Cod Sang 841, I emailed St Gallen's manuscript cataloguer Philipp Lenz for a little more information.
Interestingly, his opinion is "that this kind of quire numbering is [not] as extraordinary as you think" and though he unfortunately did not "have the time to look for specific examples of identical quire numbering", he just happened to have a manuscript on his desk with the same kind of numbering in its text: Cod Sang 688.
Even though Cod Sang 688 has not been fully digitized, Prisca Brülisauer at the St Gallen library hen very kindly emailed me through PDF scans of them: Cod Sang 688 p.174 and Cod Sang 688 p.175.
What did I learn from this? Overall, I get the impression of a good scribe writing fast, thinking and abbreviating to fit the text inside two fairly narrow columns. Given that, I'm pretty sure the scribe isn't abbreviating the Roman ordinals in a consistent manner or system: though we do (exactly as Philipp Lenz points out) see '4t9' and '6t9', the remainder are abbreviated in a fairly arbitrary manner.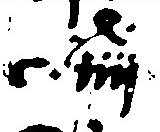 What is also interesting to me is that the tension between Roman numbers and Arabic digits comes out in other ways, such as the 'iiij' on p.174 that the scribe has quickly clarified with a 15th century '4' immediately above it. Perhaps Thomas Sauvaget and Philip Neal will have their own comments on these pages too! 🙂
Just so you know, Scherrer's 1875 St Gallen catalogue dates it to "min. v. J. 1430 […] geschrieben von Fridolin Vischer in Mollis" – Mollis is a Swiss town in the Canton of Glarus, unsurprisingly, not too far from St Gallen. Cod Sang 688 is also linked with Cod Sang 686 and Cod Sang 687.
Oh, and if you're wondering if there might be a Franciscan connection in all this 🙂 , Cod Sang 686 contains:-
S. 264-265: Epistola lectoris ord. fr. min. Friburg. ad. plebanos in Schoenowe et in Tottenowe de baptismo pueri in utero et Responsum de poenitentia publica. It. Epistola parochi ad abbatem S. Trudberti pro absolutione poenitentis.
The Franciscan Order of Friars Minor in Fribourg did indeed have a library. Bert Roest's Franciscan library bibliography lists:
Renaud Adam, 'Peter Falck (ca. 1468-1519) et ses livres: retour sur une passion', Schweizerische Zeitschrift für Geschichte 56 (2006), 253-272.[info on Capuchin library of Fribourg, Switzerland]

Pascal Ladner, 'Zur Bedeutung der mittelalterlichen Bibliothek des Franziskanerklosters in Freiburg', in: Zur geistigen Welt der Franziskanerim 14. und 15. Jahrhundert. Die Bibliothek des Franziskanerklosters in Freiburg/Schweiz, ed. Ruedi Imbach & Ernst Tremp, Scrinium Friburgense, 6 (Freiburg/Schweiz, 1995), 11-24.

Romain Jurot, 'Die Inkunabeln des Franziskanerklosters in Freiburg/Schweiz',Freiburger Geschichtsblätter 81 (2004),133-217.
Just so you know! 😉