Beyond the ivory-towered coterie of the late twentieth century academic world, few people cared to try to understand postmodernism, let alone wield it: even now, few mourn its death.
Attempts to define what postmodernism actually was tend to come across almost as effete and self-referential as the worst postmodernist works themselves: all that can comfortably be summarised is that it was a diffuse movement that asserted (a) that there is no capital-T Truth, only socially constructed small-t truths; and (b) that there are no Grand Narratives, just (yes, you guessed it) socially constructed local narratives that serve a narrator's purpose.
Yet given that plenty of non-postmodernist writers and philosophers had put forward countless variations on the same point of view, what was there about postmodernism that was unique? Or, dare I say it, even remotely interesting?
Narcissism
"It's the combination of narcissism and nihilism that really defines postmodernism", Al Gore once said (New York Observer, Nov. 2002): but in my opinion, even this is not strong enough. Postmodernism was an artefact of an academic milieu in which both the postmodernists themselves and everyone else were assumed to be narcissists all at the same time. The line between "the truth is what I want you to think it is" (narcissism) and "truth is socially constructed" (postmodernism) is only a matter of degree or scale: for it is only in a society where everyone just happens to be a narcissist that the former is able to scale up to the latter.
The real toxin of postmodernism, then, is not its nihilism but instead its implicit scaled-up narcissism: it could not distinguish itself from other ways of thinking, but only ever replace them en masse, by imposing its own narcissistic worldview on others. It always secretly saw itself as a thinking meta-hack, a clever-arse way to explain away all the difficulties of Truth and External Stuff In General.
Pro-History or Anti-History?
The overriding practical problem with postmodernist thought was that it could not account for historical truth. The central (and, I think, only genuine) starting point for historical epistemology is that of trying to answer the question "What Happened?" When all evidence is formed by the quest not for causality but for actuality, postmodernists cannot 'do' History, because they cannot accept that any single account could have primacy over all others.
As a result, postmodernism positioned itself quite contrary to History: for even though there are plenty of historians who happily do their thing without any Grand Narrative (or indeed Grand Old White Males) as support, few could do their job if there were no historical evidence to work with. As a result, I cannot see how postmodernism can be anything apart from fundamentally Anti-History.
Postmodernism = Caesar
Yes, postmodernism is dead, and more seem to want to lead their dogs to piss on its grave than to celebrate it. And it should also be no surprise that here "I come to bury Caesar, not to praise him. The evil that men do lives after them;. The good is oft interred with their bones."
For me, it seems that the most enduring legacy of postmodernism is a general weakening of thinking, even among people who don't really know what postmodernism was. And the reason for this was that people became too strongly conditioned by (what for a long time was) the dominant anti-Truth totemic trope of postmodernist culture.
At the heart of this broken programme lies what I think is a linguistic confusion given to us by language. Even though we use the same word 'truth' for both historical truth (a statement about what happened can be false or partially true, never 100% true) and mathematical truth (a logical property of a statement within a system, all of which can be painfully close to tautology), the postmodernists took it instead as if it related to political truth (of which there is no such thing). As a result, I think one of the central conceits of the postmodernist parade was founded on a misunderstanding of what Truth is: for the 'Truth' they railed against was simply their political straw man, propped up solely to be ripped down. And it was always the wrong kind of Truth.
It Lives!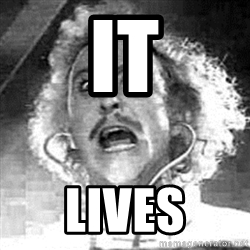 All of which would be no more than a sidenote, were it not for the fact (in my opinion, at least) that there remains a widespread distrust of Truth – that it is actually Patriarchal Truth (or at least Grand Old White Male Truth), subtly lodged in our minds by the unwilling pawns of the dominant cultural hegemony like a false memory.
Yet when we examine objects from the past – whether a building, a document, a dress, or an unsolved ciphertext – There Is A Single Truth about what happened, and the ineluctable combination of prolonged careful observation and clear focused thought can almost always bring us closer to it.
At the same time, there are plenty of bad questions that people attempt to pass off as historical inquiry: "Why did that happen?", "What was X thinking?", "What was X's ultimate intention?", "Is it the illustrated diary of a teenage space alien?" (I kid you not). In each case, these almost always have broadly the kind of Grand Narrative derided by postmodernists as their jelly skeleton: the only real historical inquiry is about that which happened, everything else is just pretension and Hollywood.
So perhaps we can forgive the postmodernists for one thing: even if they did misunderstand Truth completely, there are still plenty of ludicrous Grand Narratives out there being passed off as Grand Facts which we should learn how to resist. 🙂
Post-Truth
If you don't take my word for it that postmodernism has weakened people's thinking, here's a (black) mirror to hold up to the world. The (just now arriving) Season 11 of the X-Files (discussed on The Verge here) has Dr They talking to our old friend Fox M: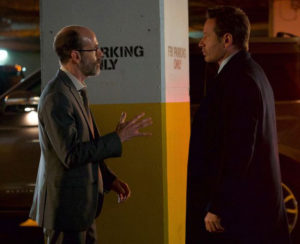 "Your time has passed," They tells Mulder. "We're now living in a post-coverup, post-conspiracy age. The public no longer knows what's meant by the truth. No one can tell the difference anymore between what's real and what's fake."

"There's still an objective truth," Mulder insists.
And (of course) Mulder is shown to be correct… though probably not in a way that he and Scully can prove to anyone. The Truth is indeed still out there, though – as always – proof remains hard.