One of Google's more interesting experimental engines is Google Trends: this aggregates data on keyword searches, to let you compare the relative popularity of different keywords over time: for example, "Paris Hilton" and "Star Wars" are (Google-wise) just about as popular as each other. From the graph, you can see that interest in Star Wars spiked up in May 2005, which Google guesses (correctly) was from the Star Wars film opening: while the Paris Hilton volume spiked somewhat when she left jail in June 2007. This reveals other non-obvious search aspects, such as the apparent cargo cult worship of Ms Hilton in Indonesia and Mexico. 🙂
But I digress.
For the graph for "Voynich", Google Trends' algorithms gamely suggest to the SciAm 2008 online re-release of Gordon Rugg's 2004 article (marked "[A]") as a possible cause of Voynich interest (but this is plainly wrong). The twin peaks actually correspond (a) to a surge in Voynich interest in France caused by Jean-Claude Gawsewitch's (2005) "Le Code Voynich", and (b) to the (2009) Voynich gag in webcomic XKCD.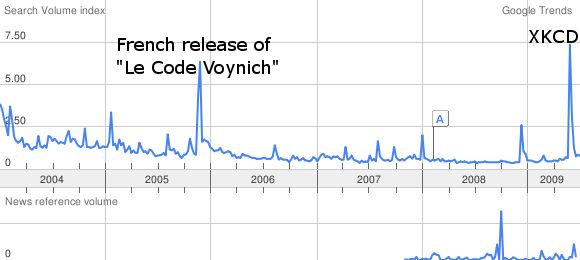 If we look solely at the June 2009 numbers, the scale of the XKCD peak is even clearer: Google search traffic for "Voynich" apparently spiked by more than 50x over baseline traffic levels. Whoosh.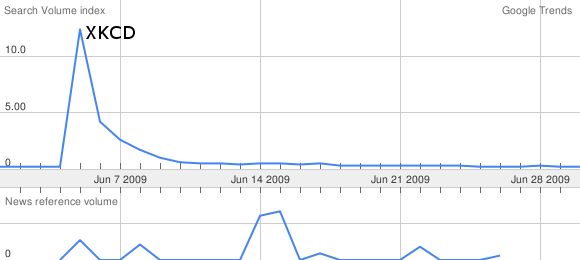 This massive XKCD spike is what lies behind the battle raging in the Wikipedia Voynich Manuscript Talk page. On the one hand, you have Wikipedia editors who think the Voynich page is basically OK (yes, there used to be a section on VMs in popular culture, but it got culled over a year ago) – and on the other, you have an army of vociferous XKCD fans who think that there should be at least some mention of XKCD squeezed in there, surely?
I think it's important to point out that neither side is entirely blameless in this dispute. Wikipedia editors deliberately use its neutral voice and juxtaposing header templates as a way of fusing (achingly) high and (shudderingly) low cultural references together under a banner of supposed universality: though this syncretism helps to differentiate it (as a project) from traditional encyclopaedias, nobody involved is quite sure whether ultimately to privilege high or low culture – both are important at different times and for different reasons.
Similarly, the XKCD fanbase (which seems centred on Seattle, according to Google Trends?) has done itself no favours by the large number of inane troll-like edits attempted on the Voynich page. And none of them has so far really explained (in the Discussion page) why it is they collectively feel the urge to stitch XKCD's web of cultural referentiality into Wikipedia's fabric. From the outside, it certainly looks like a kind of drive-past L337 grafitti being daubed on Wikipedia's walls: if there is a genuine point to the whole activity, I've yet to find it.
Ultimately, I suspect that the basic problem is that there is no consistently useful dividing line between high and low culture: when you have Wikipedia pages on Immanuel Kant and Brian Cant (and every silly cant inbetween), who's to say where to draw it?
Finally, a brief Wikipedia aside. A fair while ago, someone (I'm pretty sure it was "Syzygy", Elmar Vogt's Wikipedia editor nom-de-plume) very kindly added a mention of my 'Averlino' theory to the Wikipedia Voynich page. I'm pleased that it is mentioned there, because – unlike a lot of theories – I did try hard to produce a working hypothesis consistent with the facts, rather than blatantly defying them (which seems to be the norm some days, sadly). Even if you happen to disagree with it, it does at least have the merit of pointing towards a sensible template: I'm quite sure that, if not Averlino, the real author will turn out to be remarkably similar.
Yet Elmar's description of my theory wasn't hugely accurate: and so I thought I ought to take the opportunity to correct and update the final two sentences. Just in case anyone is tempted to revert the changes, here are links to the research I've published since "The Curse of the Voynich" to back it up:-
If Pelling is right, then the manuscript is enciphered with an extremely convoluted cascade of methods, mixed together to make the resulting cipher text appear to have the properties of an unknown medieval language (such as consonant-vowel pairing, folio references, etc).
I discussed this archaic language covertext in more detail in this recent blog post. And also:-
He claims most of the non-zodiac marginalia were originally added by the document's author(s), but have ended up unreadable because of incorrectly-guessed alterations superimposed by multiple later owners.
Recent posts on the mystery of the VMs' unreadable marginalia (for why should they be unreadable, given that marginalia are normally added to explain or remind?) are here and here: but most of the discussion is still relatively unchanged since The Curse.