There has long been a tendency to frame the Somerton Man as some kind of social outsider, whether as a spy, a loner, a drifter, a criminal, or whatever. The fact that, nearly seventy years on, he remains unidentified would superficially seem to support that view.
And yet he certainly did know people.
It was revealed not so long ago by Jessica Thomson's family that she (the nurse "Jestyn") did know who the man was, but chose not to disclose his identity. It therefore seems highly probable (though not completely certain) that he travelled by the 11:15 bus to Glenelg for the specific purpose of visiting her or her husband Prosper Thomson, a journey that ultimately finished with the man's lying dead on Somerton Beach.
Along with the bus ticket in the Somerton Man's pockets, there was also an unused train ticket from Adelaide to Henley Beach. It therefore seems very likely to me (though far from certain) that he was planning to catch the 10:45 train to Henley Beach to visit someone he knew, and perhaps even leave his suitcase with them.
Hence it's an entirely plausible (but unprovable) scenario that he telephoned his Henley Beach friend(s) when he arrived at Adelaide Station that morning but got no response, and so decided to leave his suitcase at the station and go directly to Glenelg. (Though if he had missed the 10:45 Henley Beach train and found out that the next train left after one o'clock, he might well have changed his plans for the day.)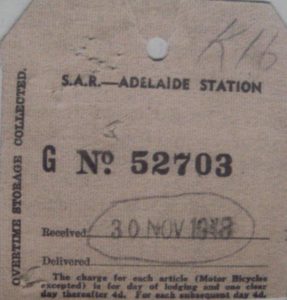 "The charge for each article (Motor Bicycles excepted) is for day of lodging and one clear day thereafter 4d. For each subsequent day 4d."
But that's far from the end of our search for the Somerton Man's social network.
A suitcase was subsequently found in the station which was connected to him not only by a thread – specifically, a certain kind of thread ("Warm Sepia of Ridgway") that both was in the suitcase and had been used to mend his trousers – but also by the same type of jockey-style underwear that he was wearing and that was in the suitcase.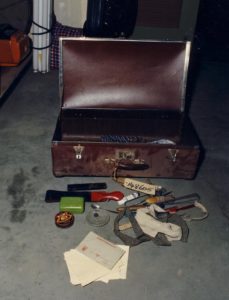 And that suitcase, amongst all its pell-mell contents, contained a number of blank prepaid letters and envelopes, about which relatively little has been said so far.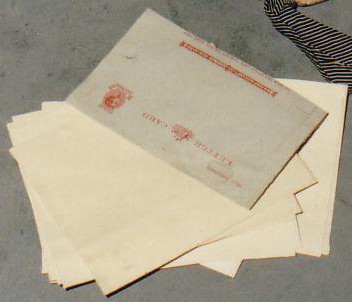 John Burton Cleland's notes
But John Burton Cleland noticed these: and in his notes to the Coroner, he wrote:
The appearance and history and social class of the deceased as revealed by the body and contents of suitcase:

1. Age: Dr. Dwyer estimated the age as probable 40 – 45. Supported by his appearance (as preserved), hair beginning to grey, several teeth missing, no appreciable atheroma in cornoaries or aorta.

2. Height: To be checked. Slimmer than I am (vide 3 in preceding section).

3. Hair: Brushed back off forehead, no parting, fair approaching sandy-coloured turning grey, rather long for a man. This item seems important in identification. Also do many Americans brush the hair backwards, more so than Britishers

4. Had shaved recently?

5. Nails of fingers and toes clean and carefully attended to – evidently particular in his appearance. Not those expected in a hard manual worker or seaman – more of a clerk or officer class.

6. Fingers tobacco stained. Shreds of tobacco in pockets of coat worn by deceased and coat in suitcase. Heavy smoker.

7. Trousers in suitcase well-pressed. Clean shirts and jockey-pants in suitcase. Garments quite clean – one slightly soiled. Particular in his dress.

8. Air-mail stickers in suitcase – corresponded with some one at a distance – other State more likely than Britain (special air-mail letter forms usually used for latter).

9. Empty squarish envelopes in suitcase suggest Christmas cards posted before November 30 (suggests overseas rather than interstate – America or Britain?).

10. Straight nose, not Jewish. Appearance not foreign. Not circumcised – Det. Leane points out [that this] excludes Turks, Egyptians, Jews.

11. New tan shoes on body, very little worn. Look as though they had just been polished and not worn all day walking about.

12. Had he been vaccinated? I could not satisfy myself that an indefinite patch below the left shoulder was a vaccinated area. Dr. Dwyer says that many service men vaccinated has 'takes' and showed later very little scarring.

13. Implements probably used for stencilling. A hobby or part of his work?
Cutting to the chase here, Cleland infers from the air-mail stickers found in the suitcase that the Somerton Man was corresponding interstate, and from the "empty squarish envelopes" that he had recently sent some Christmas cards (plural) overseas.
If Cleland was correct, I suspect that we perhaps can further rule out America's West Coast as a likely location for him to be sending Christmas cards to, simply because the post boats got there too quickly from Australia.
And if we run with the American stitching in his coat and Juicy Fruit chewing gum in his pocket, we can possibly push the balance of probability away from the UK to America's East Coast. But might he have been born in the UK circa 1900 (and not circumcised, as was more often the practice in the US then), and be writing back to family there? This is where the evidential crystal ball becomes too hazy to read.
All the same, what surely emerges overwhelmingly from all of this is simply this: that the Somerton Man was not an unknown lone wolf. He was actually connected into a wider social network of family, friends and allies… and very possibly enemies, too.