The way the modern world works is that I can't possibly send you all a Christmas card without falling foul of some data protection or anti-stalking legislation. And that would be a Very Bad Way Indeed to finish the year.
So the next best thing I can think of is to send you all a downloadable Voynich Christmas card from me as a PDF for you to print out and to put on your mantelpiece. Or to put next to all the other cards you get from people you don't know very well but who keep sending you them every year, even though you never send them one back in return. Or to just briefly look at on the computer. Or to just ignore, it's your call, really.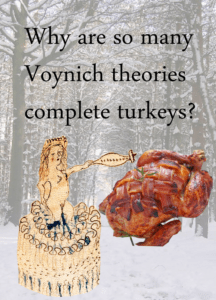 To get the full Christmassy effect you need to print it out and then fold it twice so that the above image is on the front sheet. This is about a hundred times easier than the way I've just described it, but never mind, you'll see what I mean. 🙂
Note that the nymph on the left is from f80v of the Voynich Manuscript: she is plainly holding some kind of clever basting device for cooking her festive turkey, though I have to say that she also seems to have had a bit of an accident with the extra-wide foil for wrapping her bird in. (I think you'll find that "Wolkenband" is the German word for "cooking foil", if you check your dictionary extremely selectively). And why ever she's trying to cook it without any clothes on I just don't know. Perhaps it was too hot in the kitchen? "And then all my clothes fell off"? Riiiight.
But all the same, I think we can safely conclude from all this that the Voynich Manuscript is clearly not the memoirs of a stranded alien (as the Internet would currently have you believe, *sigh*) but is instead an early modern cooking manual.
Who would have thought it, eh? Merry Christmas! 😉