As promised, here are my work-in-progress transcriptions for the newly-released pages #7 and #8 of the Blitz Ciphers. I've had to add a few new symbols to the transcription alphabet, so there are now about sixty or so: doubtless some will prove to be duplicates, but I'd rather slightly expand the alphabet when transcribing than make a wrong assumption that can't easily be undone.
And what do they tell us? Well, I've already tried a series of statistical tests on them, though without anything jumping out so far. Even though they have a trailing-off instance count distribution with E at the top of the heap and D not far behind it, the rest seems fairly arbitrary.
Unlike Dave Oranchak, I haven't spent years thinking about how to crack unbroken homophonic ciphers, so I don't really know if this is expected behaviour. Some of the symbols could well be nulls, but I don't (yet) have a good tool for predicting homophonic nulls: but maybe that's just too old-fashioned a thing to hope for.
Here are some analysis links to Dave Oranchak's Webtoy: page #7 analysis and page #8 analysis. Note that these only worked for me in Firefox (not IE), but other browsers may also work.
Overall: as of right now, I'd say the Blitz Ciphers looks a bit loose and patternless: in particular, the contact tables don't quite 'feel' right.
Yet unlike Rich SantaColoma commenting on Klaus Schmeh's page from a few days ago, I'm not yet ready to call this as an outright fake. Rather, what I'm saying is that the Blitz Ciphers seem to combine the instance frequency counts of monoalphabetic ciphers with the disorder of polyalphabetic ciphers and the inscrutability of homophonic ciphers. Two out of the three I could probably still feel comfortable with simultaneously (and work with), but having all three in play at the same time leaves me a bit… suspicious.
Basically, the jury's out on this one, and they're asking for pizza.
Page #7 (rotated 180 degrees from the image as released):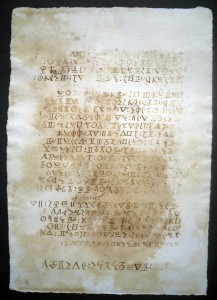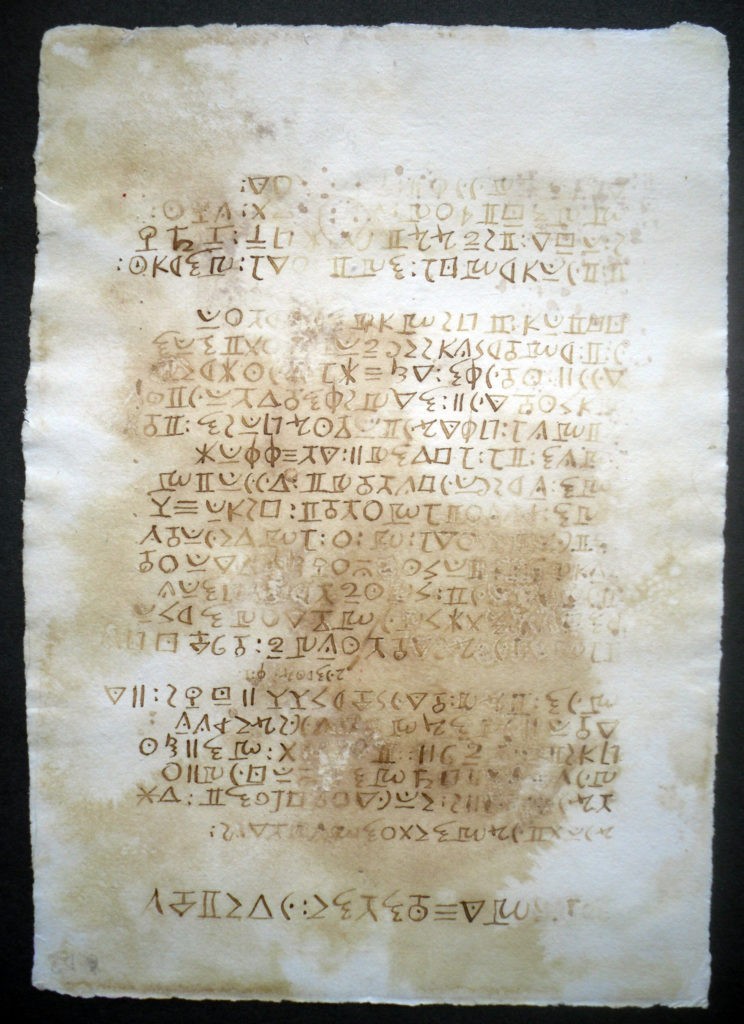 CAV~MrMmEewmDFT
BedaDeBCMmazMCTfr*TRE
rBe.qREmdp*&Y&bzMDEw;
jes.q&pCM.Ydfejqz
IgRD.JWqEED.aECMqul
*YdqeMBC.epRBmLTT
CeMEDBjEYAeNFLQXXqf%REqA
DkC.eEBRAYrlTjJEYWFvI
Mf.XaKQjeCy*zjMLQd
D.eDEQjlJa.IMdT
Tgj.DdQl.GzHu.wAdzY
Dp.z*kECEzEkCwmedYT
CMETCzDkCzrYDE&RgdVX
CMExLRpde&TrYjDEweedDC
CTMEDkEk&wMjqEArVSSdK
DCTkEISABeDdylbIdRMEDY
gQl@AeqEM*jRSMYwrdeDl
*eeqElYeSME*uVKk.elKLm.
eEDELCYLNTgRm:Jd..zaDtdM
VVDdgEDIRCgjm..erzd
DEDedgLCvkEMjD.z*kEjMLglE
REdf*EDRJBBDba.KIZEZpH
Cj.fDnzjE.aET.lE
jeeSq.zAE
Page #8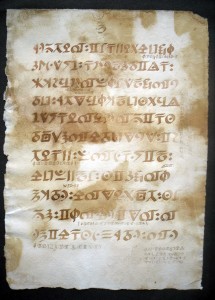 nedXYjEDbzqYaFIUS
tLpTQkEZBWJMHDAZE
KgRiBjGSbTJUCW
HIEnXciSgJIlaiA
kTQZYjYBjdDZl
HfsMCFHIcWTEDR
XYZqEGCpZ.QDJE
FIGqJbElDtUjS
MgHeEFjCHafXElb
dMEDSjFIDcjEj
eMDFZlpVnHeECe
Note that my expanded transcription alphabet looks like this (click for larger image):-