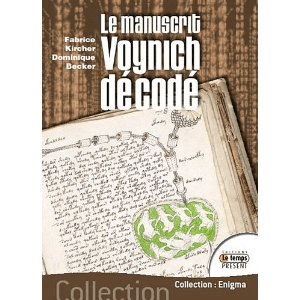 Not only can writers now get books published hyper-fast, so too can their debunkers reply no less quickly: where faulty observing, theorizing or reasoning leave holes large enough to languidly drive a truck-load of Voynich conference attendees through, you can these days expect the same to be pointed out quickly enough. So it rapidly proves to be with the recently published "Le manuscrit Voynich décodé" by mystery writers Fabrice Kircher [love the surname] and Dominique Becker, who boldly claim to have decrypted the Voynich Manuscript: but, as you'll see, this comes with an unexpected twist in the tail…
Their four-page Chapter One briskly dismisses the preceding history of the Voynich up to 2004, before launching head-first into an explanation of their transcription and analysis. Chapter 5 transcribes the ten last words on f20r thus:
olluig ollug llug golliig hand has ouand uos uouiig lluig
This babble poetry they fearlessly translate as:-
Le mouvement du lac, le mouvement d'ouverture, l'ouverture. Marche la lumière, advient, en glissant, le mauvais esprit inférieur, la basse fumée, l'inférieure vapeur de l'eau, du lac.
They get to this point by interpreting Voynichese as a polyglot mixture of (p.157) "l'allemand, le suédois, le néerlandais, le latin, l'anglais, avec quelque notions de gaélique et de nahuatl". Because of the presence of Nahuatl (which got to Europe no earlier than 1521) and various other features, they date the object to (p.157) "entre 1570 et 1610".
By now, most people who've read anything about the Voynich Manuscript in the last three years will be sighing miserably at the futility of this whole exercise. Not only have the authors recapitulated Levitov's sorry polyglottism, they've also created a reading that has little obvious to commend it over other long-failed decryptions such as John Stojko's. Frankly, to my eyes their base theory is a mess; the way all the polyglot languages are supposedly linked together is a mess; and the final translation is a mess. And I suspect that any broadly sane reviewer would say the same.
But here's the twist: the book comes with an afterword by Jean-Michel Grandsire, a self-taught anti-conformist with a interest in the paranormal. To my great surprise, Grandsire points out the inconsistency with the 2009 radiocarbon dating and the 15th century swallowtail merlons in the nine-rosette page; and suggests (p.170) that the authors may have fallen foul of what Pierre Barthélémy in the discussion at the front of "Le Code Voynich" called la "malédiction du manuscrit" – basically, the curse of the Voynich.
So there you have it: a Voynich theory presented in a way that preempts the need for writing a critical review of it (because they do that for you). How very modern!