A massive thanks to Cipher Mysteries reader Cheryl Bearden for passing along to me some breaking news on the Somerton Man case: a story by Emily Watkins in Adelaide's Sunday Mail dated 20th November 2011, already inserted in the Taman Shud Wikipedia page by retired Southern Australian WLRoss.
So, what's the big news, Nick? Well, an unnamed Adelaide woman found a US identification card in her (late?) father's collection of documents & photos, showing a fresh-faced 18-year British seaman called "H. C. Reynolds".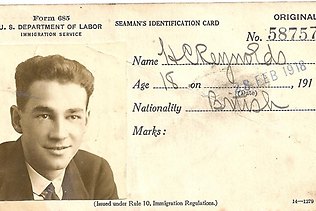 The general resemblance between this person and the Unknown Man is extremely strong, but specific similarities between their ears (again) and a mole on their faces was enough to convince Adelaide University's "internationally renowned anatomist and biological anthropologist Professor Maciej Henneberg" that the two were a perfect match. Personally, I'm not 100% convinced yet, but the parallels between this and what I concluded here a few days ago are pretty impressive.
The only downside is that searches carried out for the Adelaide Sunday Mail for H. C. Reynolds at the "US National Archives, UK National Archives and Australian War Memorial Research Centre" all drew a blank. So… what was the secret history of H. C. Reynolds?
Firstly, the date stamped on his id card is intriguing: 28th February 1918 was towards the end of the First World War, not too long after the US had joined in. A US draft of 21 year olds was already running, and would be extended later in 1918 to a draft of 18 year olds. Conscription in the UK had already been put in place in 1916 for single men aged 18 to 41, so if Reynolds (apparently aged 18) had just come from the UK, then he was apparently dodging the UK draft. Hence, I have to caution that this might possibly be a false name… just so you know!
It also struck me that Reynolds might possibly have been a British merchant seaman somehow shipwrecked or otherwise forcibly landed in a US port. One of the most notable WWI sea incidents connected to the US was the sinking just off Nantucket of three or four British merchant ships (and some Dutch ships) by the German submarine SM U-53 on 8th October 1916. This caused widespread consternation, and may well have been a prime thing that helped persuade the American people that the US should enter the war.
It's a fascinating story, and I eventually tracked down the list of survivors and passengers of the Strathdene, the Stephano, and the West Point (it's in the New York Times archive for 10th October 1916, if you're interested). However, there was apparently no "Reynolds" on board any of them. I also managed to find the passenger & crew list for the Florizel which sank on February 24th 1918 (though from hitting a reef, not from another U-Boat action) off Newfoundland, but there was no Reynolds there either. (Just so you know, it was named after Prince Florizel in Shakespeare's The Winter's Tale).
Having said that, I wasn't able to fully determine whether or not U-53 sank the British freighter "Kingston" / "Kingstonian" (the newspapers of the day ran numerous conflicting reports on this, probably the most reliable source would be Hans Rose's reports), so it is just about possible Reynolds could have been on one of the Kingston's lifeboats allegedly seen "30 miles SE of Nantucket". Alternatively, if you happen to know of other British ships that sank just off the US coast between 1916 and 28th February 1918, please let me know!
To be honest, though, I find the date of the sinking of the Florizel (a mere four days before the id card was issued) more than just a touch coincidental: I do wonder whether (for example) the Florizel's waiter "Henry Snow" (whose age we don't know) might possibly have changed his name to "H C Reynolds" in order to somehow stay on the USA.
Right now, Reynolds' id card would seem to have triggered far more questions than answers: but that is, at least, a better place to be in than having no questions at all, right?