A few weeks ago, some new ciphertexts pinged on my Cipher Mysteries radar: the story goes that they had been found just after WWII in wooden boxes concealed in the wall of an East London cellar that German bombing had exposed. Hence I've called them "The Blitz Ciphers", but they're probably much older than the 1940s…
They were handed down to the discoverer's nephew (the present owner), who now finds himself caught between a desire for relative anonymity and a desire to know what they say. So far, he has been good enough to release three tolerably OK photos from a much larger set he took: but will these be enough for us to crack their cipher?
[Of course, despite the story's plausibility, I have to point out that this might conceivably still be a hoax designed to make cryptographic fools of us: but if so, it's such a classy job that I really don't mind. 🙂 ]
Description
Generally, the Blitz Ciphers' writing appears to have been added in two hands: a larger, paler, more calligraphic presentation hand, and a smaller, darker, tighter annotation hand. While the presentation hand serves to establish the content and layout structure, the annotation hand is restricted to supplementary paragraphs and additional short notes apparently explaining key letters or terms.
Broadly speaking, the text on the first page (the 'title page', above) seems to have been laid down in three sequential phases:-
* #1: the circular 'boss' / 'plaque' and the two large paragraphs – large presentation hand, brown ink, quite faded in places.
* #2: the third large paragraph at the bottom – mid-sized annotation hand, brown ink.
* #3: the annotations to the other paragraphs – small-sized annotation hand, darker ink.
This general construction sequence seems to hold true for the other pages too.
The second page we have contains two curious diagrams: one a drawing of an octagon (though note that there is a square missing from the lines connecting all the vertices of the octagon), and the other an abstract tree-like representation of something unknown.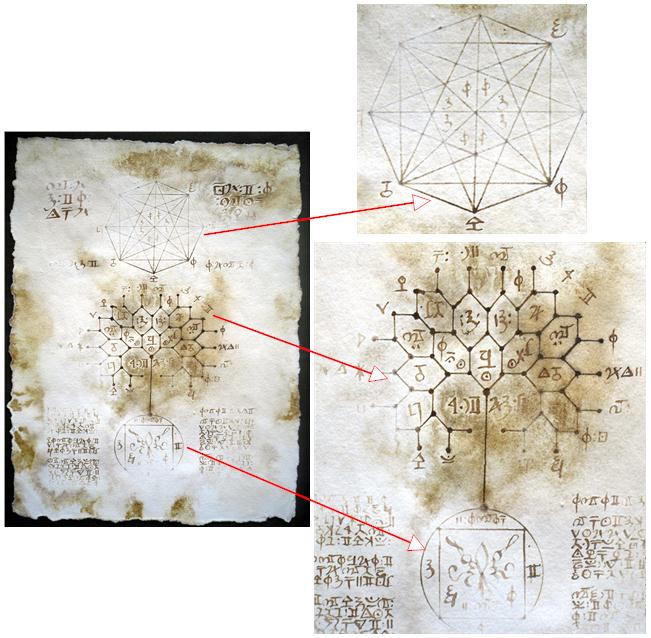 Our third page contains a large "John Dee"-like 20×20 square table, where each grid square contains individual cipher letters. The table has an array of red dots gridded within it, where each of the 16 internal red dots is surrounded by a letter repeated four times in a 2×2 block. Red dots near the sides all have two dotted square characters on the edge beside them, apart from a single one near the top right, suggesting a possible copying error. There is also a single correction (near the top left of the 20×20 table) made in the presentation hand.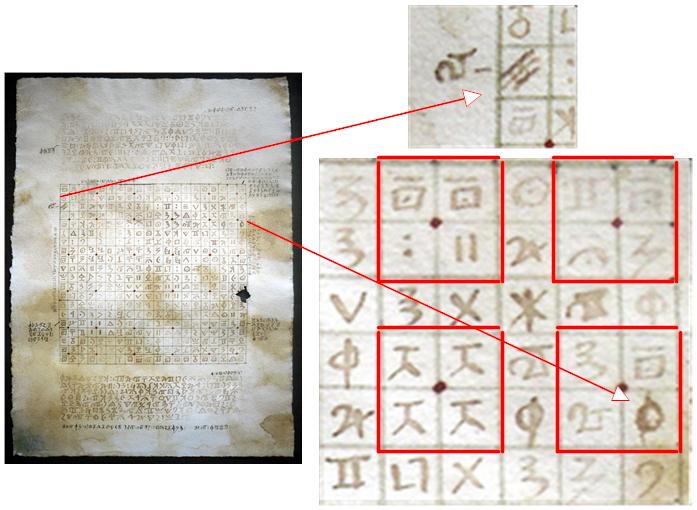 The support material appears to be handmade paper (I don't have access to them to look for a watermark, sorry!), while the inks for the two hands appear to be quite different. Though I can't prove it, I suspect that the larger presentation hand was written using a quill pen (suggesting genuine age or some kind of ceremonial presentation aspect) while the smaller annotation hand was written several decades later with a metal nib. They could possibly have been written by the same person using different pens, but differences between the two hands argue against this.
My initial dating hunch was the first layer could well be 16th century and the second layer 17th century: but having said that, the whole thing could just as well be much more recent and instead have been deliberately written in that way to make it appear 'venerable' and old-looking. (More on this below.)
The Blitz Cipher Alphabet
The letter forms are clear, distinct, and upright: the presence of triangles, squares and circles and various inversions perhaps points to a cryptographer with a mathematical or geometric education. It's closer to a demonstration alphabet (designed for show) than a tachygraphic script (designed for repeated large scale use). Here's the provisional transcription key I've been working with:-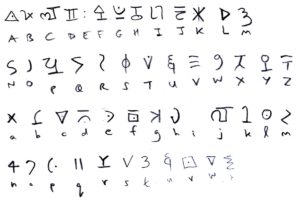 Despite some apparent ambiguities in how to parse or transcribe the various cipher shapes used, the fact that the 20×20 table has only a single letter in each cell is a fairly strong indication that each table cell contains a single cipher glyph, suggesting that about 50 distinct characters are in use. The text has a language-like character frequency distribution, with ":" [E] being the most frequently used character (the "tilted Jupiter glyph" [B] and the "joined-up-II glyph" [D] are #2 and #3 respectively). The "Greek phi glyph" [S] often appears at the start of lines and paragraphs.
I've shown all this to some cipher historians and codebreakers for their early reactions. Glen Claston notes that "the alphabet is based on the types of symbols used by astrologers, with a few I recognize as alchemical symbols", though – inevitably contrariwise – I suspect this might well be a coincidence arising from the simple shapes and symmetries employed. Peter Forshaw suggests parallels with some geometric cipher shapes used in Della Porta's "De furtivis literarum notis", though Tony Gaffney similarly cautions that such "shapes were very common back then, the numerous 'ciphers of diplomatic papers' in the British Library are full of them".
The Blitz Cipher System
As with the Voynich Manuscript, the peaky frequency distribution probably rules out complex polyalphabetic ciphers (such as Alberti's code wheel and Vigenere cipher): yet it doesn't obviously seem to be a simple monoalphabetic substitution in either English or Latin (but please correct me if I'm wrong!)
Unlike the Voynich manuscript, however, I can't see any obvious verbose cipher patterns significantly above chance: so the main techniques left on the cryptographic smorgasbord would seem to be:
* a homophonic cipher, like the Copiale Cipher (but if so, the encipherer didn't flatten the stats for ":" [E] very well)
* a nomenclator cipher (i.e. using symbols for common words, like "the", "Rex", or "Mason" 🙂 )
* an acrostic / abbreviatory / shorthand cipher.
All the same, there are some intriguing patterns to be found: David Oranchak points out that "'SBDBlDMDBl' is an interesting sequence, since it is length 10 but only consists of 5 unique symbols." I suspect that the presentation hand uses a slightly different enciphering strategy to the annotation hand, which possibly implies that there may be some kind of homophone mapping going on. The fact that there is also an annotation applied to a single letter [c] on the title page may also point to a nomenclator or acrostic cipher.
Personally, I'm intrigued by the circular 'boss' at the top of the title page: this has three letters (C, M and E) calligraphically arranged, i.e. the two dots of the colon have been separated above and below the M. To my eyes, this looks suspiciously like a cryptographic conceit – might it be the case that ":" (E) is in fact a kind of letter modifier? For example, it might encipher a repeat-last-letter token (if the text had a lot of Roman numbers), or perhaps a macron-like "overbar" superscript denoting a scribal abbreviation (i.e. contraction or truncation). Something to think about, anyway!
As for the plaintext language: if this was indeed found concealed in an East London cellar, English and Latin would surely be the main suspects, though Tony Gaffney tried Latin and couldn't find any kind of match.
Blitz Cipher Theories & Hunches
If you're expecting me to start speculating that these documents were from a 16th century Elizabethan secret society frequented by John Dee and/or William Shakespeare, sadly you'll be quickly disappointed. Similarly, though I concur heartily with Glen Claston that these genuinely intriguing ciphertexts may well ultimately prove to be high-ranking 18th century Mason or Freemason ciphers, it is just too early to start saying. We simply don't know as yet enough of the basics.
What I personally have learned from the tragically fruitless, long-term debacle that is Voynich Manuscript research is that speculative theories are almost always a hopeless way of trying to decipher such objects. Hunches are cool and useful, but they need to stay restrained, or everything goes bad. Please, no theories, let's try to crack these using the proper historical tools at our disposal!