It's well known that f1r (the very first page of the Voynich Manuscript) has an erased ownership mark. Under UV light, you can see that it says (something along the lines of) "Jacobj à Tepenece / Prag" (Photo Credit: © ORF):

For everyone who isn't heavily invested in some kind of hoax-centric Voynich Manuscript meta-theory, the presence of Jacob Tepenecz's mark on the first page would seem to be a pretty good indication that he was an early Voynich owner. Combining that with the mention of Emperor Rudolf II in the Marci letter would suggest that the Emperor himself was quite likely also an early Voynich owner (though no direct evidence of that has yet been found).
What's almost completely unknown is that the Voynich Manuscript seems to me to have probably also had a second ownership mark: only this time, the erasers physically excised the whole bottom section of the foldout page containing it.
The Voynich owner's mark on f102?
The two-panel recto (front) of f102 looks like this…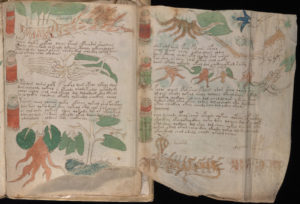 …while the two-panel verso (back) of f102 looks like this: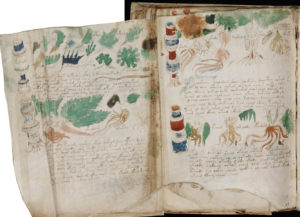 Note that the folio number at the top rght of the left verso panel was obviously added while the panel was folded back: and that the number at the bottom right of the right verso panel is a quire number. Let's look a little more closely at the recto side of the excision:
Here we can (I think) clearly see that this section was cut out after the plant drawings had been added to the page, and also after the paint had been added to them. And as for the verso side of the cut:

Looking closely at both sides, I think you can also see the difference in quality of cut between the original bifolio cut edge (bottom right, beneath the '19' quire mark) and the later excision's edge: the former is nice and clean, while the latter is ragged, as if that cut was done with a cutting tool that was not quite as sharp.
Dating the Layers
Given that the paints used here are untidy (and, truth be told, a bit nasty), it would seem reasonable to infer that these were probably added by Jorge Stolfi's putative "heavy painter" very late in the Voynich Manuscript's life: say, not too far from 1600 or so. All of which would seem to imply that this section of vellum was removed after that date.
And given that the f1r ownership mark was erased some time after 1609, I think it would be reasonable to conclude that this section of the bifolio was probably excised at the same time. While it's possible that Baresch cut this out when he was (apparently) cutting out various single pages from different sections to send to Kircher, my judgement is that that's a far less likely scenario.
Missing pages and heavy paint aside, the only other thing in the manuscript that seems to have been messed around with in any significant way is the ownership mark on f1r: hence it seems likely to me that f102v had also had some kind of ownership mark added to it in the blank space next to the '19' mark, that was removed at the same time.
And that in turn suggests to me that this quire mark was not '19' (as in 'the number after 18'), but that it was instead a fifteenth century '1-9' (i.e. 'prim-us'). Which in turn suggests to me that this quire and the other pharma quire were a pair of freestanding quires / gatherings in a separate book, that was merged in with all the other quires. As I wrote in Curse in 2006, there seems strong visual evidence (from the sequence of jars that progress from simple to complex) that what is now Q17 originally came after Q19.
Furthermore, there seems to be evidence of stitching holes on the exposed (and somewhat worn and discoloured) fold of f102: the presence of these holes and discoloration suggests to me that f102 may originally have been folded and nested rather differently to what we see now.
This also suggests to me that Q20's quire number was probably added by a different (and later) hand to the hand that added the Q19 quire number, but one trying to ape the style of the Q19 quire mark hand. I therefore predict that these will turn out to have been written in very different inks.
Reading the Invisible
At this point, you might ask: so what? Even if this was indeed an ownership mark that was excised, what does it matter? Who cares?
Well: what's interesting is that I think there is a small chance that we will be able – with just the right imaging technique – to see traces of whatever was written on f102v1 faintly imprinted on f102r2. Alternatively, we might be able to detect the faintest of contact transfers carried across onto the facing page (i.e. f103r).
In both cases, these would probably be far too subtle to see with the naked eye: but if we are determined enough to find a way of looking at precisely the right piece of vellum in precisely the right way, who can tell what we'll find there?