It may surprise you a little, but sometimes I do like to think about things which aren't to do with cipher mysteries at all. Today I stumbled upon a short video on situational irony that, just like Alanis Morissette's song "It's Ironic", professed to explain irony by example yet failed miserably. Having said that, perhaps the creator's inability to explain irony despite setting out to do so is the best example of irony that could be given… but I'll leave you to decide for yourself.
But that set me thinking about irony punctuation, specifically the reversed question mark '⸮' which your browser may or may not support. And that set me thinking about the 16th century English origins of the modern question mark glyph '?'. And that set me thinking about the late mediaeval abbreviation for 'quaestio' ('what') i.e. 'qo' or '4o', where (many typography historians believe) the 'o' subsequently migrated down beneath the 'q'/'4' to yield the modern question mark shape.
But that reminded me of a decade ago when I was tracing the origins of the '4o' shape seen in the Voynich Manuscript: back then, I stumbled across some late 14th and early 15th century examples of '4o' in legal documents, but have been unable to find any since. In retrospect, I think that what I was looking at were very probably examples of abbreviated 'q[aesti]o', i.e. prototypical question marks. In fact, this '4o' glyph pair appears in a number of Northern Italian fifteenth century ciphers, particularly in Milan (but that's another story).
Yet in Voynichese, the '4o' shape almost always appears at the start of words (which isn't where question marks go), and at the start of multiple adjacent words such as 'qokedy qokedy' etc (which is also not how question marks work). Hence I believe that what we are looking at in Voynichese's '4o' is a 14th century abbreviation-cum-shape being appropriated and put to some other confusing use within a non-obvious textual system, in just the same way that the Voynich's 'aiir' / 'aiiv' family of shapes appears to be a 13th-14th century page numbering abbreviation-cum-shape being appropriated and put to some other confusing use within a non-obvious textual system.
If you can think of a better definition of cryptography, please let me know. 🙂
But while I was idly looking all this up, I noticed several mentions of medieval brackets: apparently, the widely used convention for these was to surround the contents with reversed brackets (i.e. back-to-front relative to modern brackets) and to underline the contents. So, whereas we would write (tum ti tum), a medieval scribe would write )tum ti tum( instead.
Wait just a minute, I thought, I've seen these early on in the Voynich Manuscript. Isn't it the case that what researchers sometimes call "split gallows" enclosing text is simply visually hiding an upside-down medieval bracket set?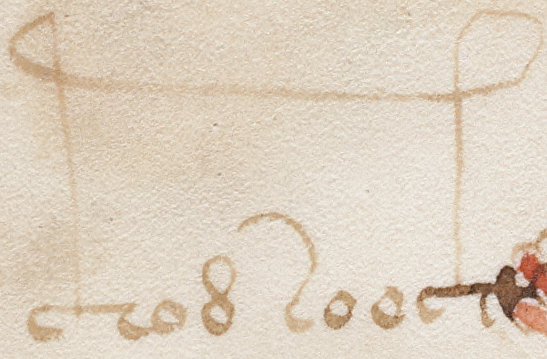 Just to be clear, here's what I'm thinking:-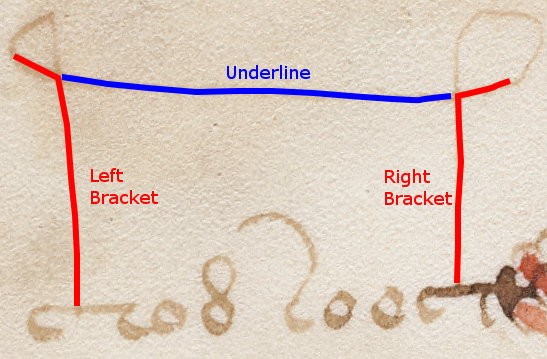 This visual trick only occurs right at the start of the manuscript (in fact, the above example is from f8v, on the back of the first bifolio). However, I suspect that splitting gallows in this way served to highlight the contents rather than to hide them, and so the encipherer then finessed the cipher system to use other (far less obvious) ways of achieving the same end through the rest of the document. Hence I believe that this was an early experiment in hiding the contents of the split gallows, which morphed into the far less visually obvious horizontal Neal keys (pairs of single-leg gallows, usually placed about 2/3rds of the way across the top line of a page or paragraph).
So… I started out trying to read about irony (and not do Voynich research), and ended up doing Voynich research after all. Is that ironic?