Apparently, today's big cipher mystery news story is the announcement that Finnish businessman "Veikko Latvala, a self described 'prophet of god'" has allegedly "decoded the book and unlocked the secrets of the world's most mysterious manuscript.". Voynich researchers will no doubt be amazed to learn that "The sound syllables are a mixture of Spanish and Italian, also mixed with the language this man used to speak himself. His own language was a rare Babylonian dialect that was spoken in a small area in Asia."
Being brutally honest, though, this kind of thing makes me dreadfully sad. Cryptanalytically, the whole point about the way Voynichese was constructed was to make it resemble a nonsense language: a semantic half-entity with a great big meaning-size hole left empty in it for the reader to fill with their own pareidoilia, to gestaltically complete. As a result, the VMs is hugely attractive to people whose heads are already full of a self-contradictory chorus of noise, whose need is merely for a vessel to pour their own internal message into.
Once you grasp that in all its awfulness, it is little more than a miserable half-hop to seeing the Voynich Manuscript as a virtual car crash perpetually about to happen yet with doors wide open beckoning the unstable to jump in: a DIY tragedy that seems fated to be replayed endlessly by successive generations.
Of course, I'm perfectly happy to concede that it's entirely possible that Veikko Latvala is right here, though doubtless it would be for utterly the wrong reasons, and at a high enough level of improbability to drive the "Heart of Gold" (as famously stolen by Zaphod Beeblebrox) all the way to infinity and beyond.
Actually, for me the big news here is that the whole miserable non-story broke first on Fox News. Even though The Da Vinci Code already seems a very long time ago (though arguably not nearly long enough), perhaps the Fox newsroom got a kick off covering Kevin Knight's Copiale Cipher story recently (in fact, they asked Knight about Latvala's claims, but he declined to comment, can't think why), and wondered if they could reprise that populist cryptographic high.
All the same, I suppose I'm contractually bound to quote what Latvala says about "16152" (by which I presume he means the Beinecke's scan "1006152.sid", i.e. f40r):-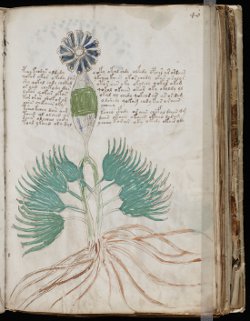 "The name of the flower is Heart of Fire.
It makes the skin beautiful when made as an ointment.
The oil is pressed from the buds.
This ointment is used for the wrinkles.
Is suitable for the kidneys and the head,
as the flower prevents inflammations, is antibiotic.
Plant is 10 centimeters by its height.
It grows on hot and dry slants.
The plant is bright green by its color."
Of course, the obvious historical non-sequiturs here are "antibiotic" (~1889) and "centimeters" (~1790). But it's also interesting that he lists 9 lines, when f40r has 11 to the left of the plant-thing and 10 to the right.
As far as my own observations on what is actually on f40r go, I personally rather like the tonal contrast between the two green paints: perhaps the stem green was original but the leaf green was from the 'heavy painter'? I also like the way that the two root sections merge into a single vertical stem, nicely mysterious. 😉 The text also has some nice verbose cipher sequences ("ar ar al or" at the end of line #2, plus "ar ar or" at the end of line #5 quickly followed by "or or ar" at the start of line #6), and a particularly clear 'Neal key' at the middle-right of the second paragraph's topmost line. But that's just by the by: I'm sure all Voynich researchers have their own favourite features. 😉