Because of the lack of satisfactory evidence to work with, there are two basic Voynich research methodologies:
concrete (which focus on those miserably few things we know about the VMs); and
speculative (which try to determine which of the quadrillion possible explanations for the VMs are most inherently plausible).
In line with the first of the two, I've spent a long time hacking away at the VMs' marginalia in a concrete attempt to work out from whence they came, so as to make the provenance leap a century or more backwards from 1600 to some point closer to the Voynich Manuscript's actual origin. It's been a hard slog, but I think I've now landed on the right doorstep: Savoy (specifically the post-1416 Duchy of Savoy).
When I saw this page (from Archives Départementales de la Côte-d'Or, B 6768, dated 1345), there's just something about the handwriting that rings a bell for me. OK, it's not by the same person (in fact, they're probably close to a century apart) but look at its "nichil" with f116v's "michiton":-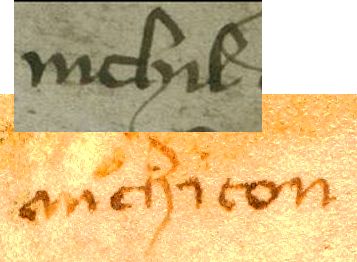 Is this just some palaeographic coincidence? I really think not: in fact, I predict that if a multispectral infrared scan of f116v was carried out, you'd see (at just the right wavelength) the top part of the  "t" of "michiton" mysteriously morph into a looped "l", as per the 1345 document. Basically, I'm pretty sure that "+ michiton" originally read "+ nichil" (or possibly "+ nichilum"), as the Ecclesiastical Latin "nichil" seems to pop up mainly in the context of late medieval French Latin texts, by monks allegedly influenced by the Florentine humanist Leonardo Bruni's (1369-1444) practice of using "ch" for "h". Perhaps an experienced Savoy palaeographer would be the right person to ask about this? I suspect that there's much more we could tell…
Interestingly, here's a map of Savoy in the 15th century: hmmm, not far from Milan at all. So, is that some kind of coincidence as well? 🙂
P.S.: I should add that it could indeed just as well be "michi" written in basically the same hand, except that I suspect that the "o" and the initial "m" of "michiton" were both emended by a later owner, and that this doesn't help explain what is going on with the whole word.