Even though people often assert (rather lazily) that the Voynich Manuscript is the only artefact 'of its kind', this is false, because there are plenty of similar documents. For the most part, the significant difference is merely one of scale, not of type – for example, the similar enciphered Quattrocento documents that do exist are neither as well-encrypted nor as large as the VMs.
The critical concept here is, of course, similarity: for Art History is a discipline built around discerning similarities between artefacts not just in terms of content [i.e. that-which-is-being-represented], but also in terms of style, gesture, technique, and approach (though, as Charles Hope points out, this falls over when art historians reconstruct an underlying linking mythology that wasn't originally there). So, putting our art historian hats on, what are the best matches for the Voynich Manuscript?
Of the various Quattrocento enciphered manuscripts, the ones that really leap out are the books of secrets by Giovanni Fontana, for which the best edition by far is Battisti and Battisti's (1984) "Le Macchine Cifrate di Giovanni Fontana". This includes Latin decipherments of the passages in (simple monoalphabetic) cipher, together with a parallel translation into precise modern Italian. My Italian comprehension remains only middling, so making a suitably careful reading of this remains more of a long-term project for me than a short-term one.
Fontana's manuscripts trace a merry criss-cross pattern across the map of my research interests: ciphers, fountains, alchemy, cars, weapons, and even optics. For the last of these, it was interesting to see folio 70r of Fontana's Bellicorum Instrumentorum Liber reproduced by Sven Dupre in a recent paper: the Latin plaintext says "Apparentia nocturna ad terrorem videntium", while the Latin ciphertext reads "Habes modum cum lanterna quam propriis oculis[ocolis] vidi<i>sti ex mea manu fabricatam et proprio ingenio".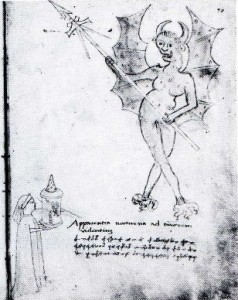 Bellicorum Instrumentorum Liber, folio 70r
Also optically interesting are the mirrors on folio 41v "Speculum ingeniosum et admirabile, cuius una pars super alteram ducitur, et clauditur quando opport<et>. Et ex calibe fit ad formam hanc cum foraminibus incident<i>e radiorum, Ymagines aparent deformes, turtuose, inequales, ambigue. Sed eius compositio hic aliter non describitur, nisi sub brevita<te>, ita ut me intelligas. Pars comcava fit sicud specculum combustivum archimed[ni]dis, convexa vero sicud speculum meum de multiplicate formarum."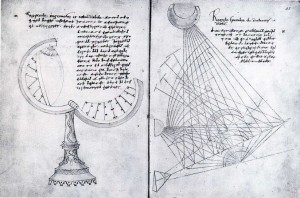 Bellicorum Instrumentorum Liber, folios 41v and 42r
But I suspect that it is Voynich researchers who will have most to gain from Battista & Battista's wide-ranging scholarship. For sheer similarity with the balneological / water section, few would surely disagree with the nymphs bathing in the "Fons Virginum" on folio 43v, with the fountain on folio 31r, and particularly with the "Fons Venetus" (also with a water nymph!) on folios 22v and 23r. [Note to self: remember to get a copy of Frank D. Prager's "Fontana on Fountains", Physis XIII, 4, 1971, p.347.]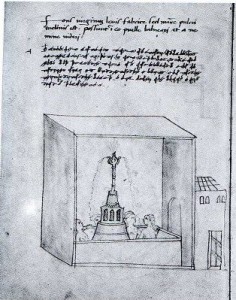 Bellicorum Instrumentorum Liber, folio 43v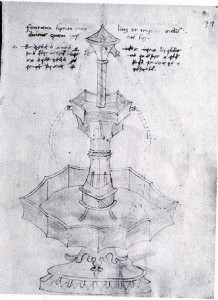 Bellicorum Instrumentorum Liber, folio 31r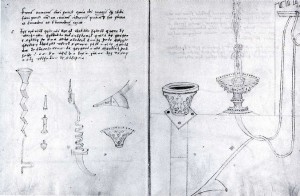 Bellicorum Instrumentorum Liber, folios 22v and 23r
As with the VMs, even though some adjacent folios are definitely in the correct order (such as folios 59v and 60r), I do wonder whether the page order has at least been partially scrambled: to my eyes, the rocket-powered roller-skateboard on folio 16v really ought to sit opposite the rabbit on a rocket-powered roller-skateboard on folio 37r (my favourite Fontana drawing!)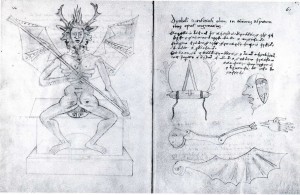 Bellicorum Instrumentorum Liber, folios 59v and 60r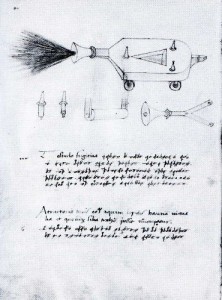 Bellicorum Instrumentorum Liber, folio 16v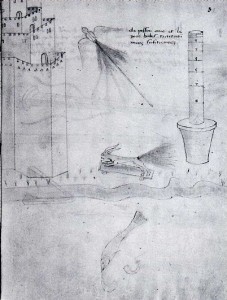 Bellicorum Instrumentorum Liber, folio 37r
In short, there are plenty of similarities between Fontana's enciphered book of secrets and the Voynich Manuscript: the key difference between the two is simply that heavyweight art historians take the former seriously, but the latter cum grano salis.
What I'm trying to do (in my own slow way) is to construct a proper art historical account of the VMs – a Battista & Battista for the VMs, if you like. However, with only Rene Zandbergen's site and D'Imperio's "An Elegant Enigma" to rely upon, this is really quite a daunting challenge, particularly because (as the absence of reaction to my first book would seem to imply) even Voynich researchers appear not to be interested in this kind of research programme. Perhaps because this looks too much like hard work?
I would even go so far as to say that anyone interested in the art history of the VMs should buy a copy of Battista & Battista's book, simply because of the wealth of notes and thoughts embedded throughout it, nearly all focused on the right kind of areas. There are a few non-stratospherically-priced copies on BookFinder… so what are you waiting for? 🙂