On p.114 of Jerrold Northrop Moore's weighty "Edward Elgar: A Creative Life", the author notes that Elgar's enciphered "Liszt fragment" had been decoded (in 1977, according to Anthony Thorley whose decryption it was) to read:
Gets you to joy, and hysterious
Well… it's certainly a claim, even if 'hysterious' is a made-up word found nowhere else. And one of the (cryptologically, at least) interesting aspects that link this Liszt fragment and Elgar's Dorabella Cipher is that while both of them seem unlikely to have employed complicated cipher systems, for all of that both also seem improbably hard nuts to crack. You'd certainly need a sweet nutcracker to achieve it. [*]
I've discussed Elgar's Liszt fragment before, written in the left margin of an 1885/1886 Crystal Palace Saturday Concert Programme: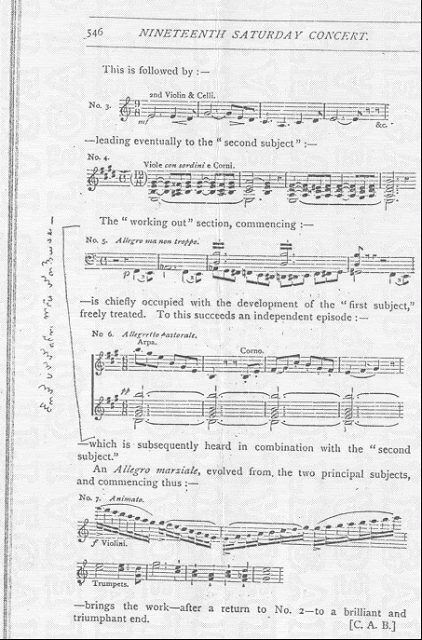 The cipher on its own looks like this (sorry, but I don't have a better scan):-

It's not a great scan, certainly: but given that though the dash looks as though it is meant to sit at the end, and there are several half-space-sized gaps, it looks as though we might be able to transliterate this as:
ABC DECFGB HID CBJKDK
What should be immediately apparent is that there is no obvious way to convert this 3 + 6 + 3 + 6 = 18 letter cryptogram into Thorley's 25-letter "Gets you to joy, and hysterious", without a singularly large floor space for mental acrobatics to bounce around on. (If that's what you want to do, feel free to go ahead.)
And yet, what we undeniably have with the Liszt fragment that we don't seem to have with the (much later) Dorabella Cipher is context, specifically a musical context. And here I can't help but notice not only that the Liszt ciphertext seems to have been written in sets of three or sets of six, but also that the music it sits besides also has a very strong emphasis on triplets, groups of three notes.
Moreover, the 18-letter group is written immediately beside an 18-note line of music, "No. 6 Allegretto Pastorale". Might the first be enciphering the other in some way?
a...b...c...d...e...c...f...g...b...h...i...d...c...b...j...k...d...k...
B...G#..E...B...G#..E...B...B...E...F#..G#..C#..B...G#..F#..E...F#..G#..
I can't see any obvious cryptographic connection myself here, but I was somewhat surprised to find that nobody had apparently suggested this at least as a reasonable possibility for the Liszt fragment, far more so than for the Dorabella Cipher. (Plenty of people [e.g. Javier Atance, etc etc] have suggested that the Dorabella Cipher might be enciphering music, but that's another story entirely).
Something to think about, anyway. 🙂
[*] Made me laugh, anyway. 🙂