The problem with radiocarbon dating as an analytical historical technique isn't that the underlying science of radioactivity is hard (in fact, it's fairly mechanical and straightforward, albeit probabilistic), but rather that mention of the S-word ('science') unduly raises many people's expectations that they can use it to get to some kind of unshakeable bedrock of knowable truth about the past. "God's smoking gun", if you like (or not if you don't).
Sorry, but even if you've paid your money to the University of Arizona to get a radiocarbon dating number in your eager hand, you still have a large number of issues to deal with.
For example, the historical curves are all twisted about thanks to human history (global pollution etc), which means that you have to go from uncalibrated raw data to calibrated historical data; another problem is that locale-specific human effects (e.g. polluted urban air vs clean mountain air, etc) can shift the likely dates forwards or backwards; another is that carbon trapped inside certain diets (e.g. shellfish or seafood) eaten by the animals whose radioactive carbon we are testing can cause yet more havoc inside the calculation; and so on and so forth.
Back in 2012, I tried to give an accessible summary of the most difficult bits of all this, but the tricky historical reasoning that necessarily has to be wrapped around radiocarbon dating remains a fiendishly technical business that few Voynich researchers can genuinely make proper sense of in toto.
One thing is fairly solid, though: of the four data points we have, three are extremely – and I do genuinely mean extremely – close. Certainly close enough for the three pieces of vellum to have come from the same decade.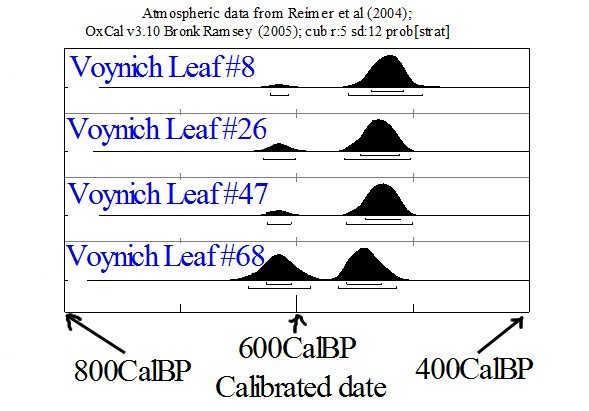 Incidentally, "BP" ('Before Present') is the technical term for "number of years before 1950"; which means that the 500BP notches 3/4 of the way across the horizontal scale correspond to 1450. Hence you can visually see that the curves for all three of the top three samples go to around 1450.
The first counterintuitive thing about all this is that these curves are only probabilitic date curves insofar as we know nothing else at all about the object's likely place of origin. For example, if we can determine by other means that the manuscript came from a polluted urban area, then we should (as I understand it) eliminate much of the earlier (leftmost) years' components that make up the curve to effectively produce a new, much narrower curve biased more strongly towards the later (rightmost) years.
The second counterintuitive thing is that if you try to statistically combine just the top three samples together (by approximating their distributions as Gaussian probability distributions and then using a neat bit of stats maths), you get… pretty much exactly the same curve as any one of them. Think about that: because these three radiocarbon dates are so close together, each statistical merge brings hardly any new information to the party, giving the clever stats machinery barely anything to use to help it narrow that wider initial range.
This leads to the third counterintuitive thing: that in fact almost all the narrowing of the date range (from say [1400-1450] down to [1404-1438]) is therefore down to that pesky fourth sample, a thin sliver taken from the heavily-handled outermost edge of leaf f68. My personal prediction is that the difference in dating that this sample offers will eventually prove to have arisen from nothing more than a badly-chosen sampling site (on one of the most heavily handled areas of vellum in the entire manuscript). If Greg H. had instead taken it from the top of the page much nearer the bound edge, I expect that the radiocarbon dating would have ended up almost exactly the same as the other three.
It's important to note at this point that I'm genuinely not trying to use this single f68 sample to try to 'prove', 'verify', or 'validate' my Averlino Voynich theory. Actually, the way this works is completely the other way round, in that what came first for me was a whole load of codicological, cryptographic, palaeographic and Art History analyses, which all seemed to me to specifically point to a construction date in the 1450 to 1470 range (neither before nor after). Hence for me, Averlino was simply an illustrative cherry on what was already to me a well-baked Art History cake: my identification of him as the author of the Voynich might be right or wrong (and I still don't know either way), but all my other dating still stands.
And it is this other dating evidence which I happen to trust more than f68's single radiocarbon dating value.
The problem with accepting nothing beyond the raw radiocarbon date range (as Richard SantaColoma is wont to argue people should do, which is somewhat ironic given that it's the specific piece of information which his various it's-a-hoax-but-using-unused-old-vellum theories then immediately deem irrelevant) is that it leaves you vulnerable to calculational and procedural errors. If you genuinely want to date the Voynich Manuscript, then I think you have no honest choice but to engage with ceramics, parallel hatching, cryptographic alphabets or whatever fields you choose to build up multiple sets of independent dating evidence. Unless you have these to combine with the radiocarbon dating, your results will be weak.
Which leads to the final counterintuitive thing for this post: that while radiocarbon dating itself is scientifically strong, the tricky reasoning surrounding it is historically fragile. The more you can sensible combine with it, the stronger a support it becomes: but argue from it in isolation from everything else, and your conclusions and inferences simply won't have a great deal of strength. It's like one leg of a tripod: you need two more legs for it to be able to stand for any length of time.