A comment left here today by Mark Pitt very kindly pointed me to the Elgar- and/or Dorabella Cipher-related Sotheby's Lot 92 from May 2016.
The lot contained a rather distressed ("binding broken, pages loose, wear and some damp-staining") first edition copy of Dora Penny's (1937) "Edward Elgar: Memories of a Variation" apparently from Dora Penny's own library ("D.M.P. 1937", though by then the final 'P' then stood for 'Powell', her married surname), along with various photographs of Elgar and his coterie all "captioned by Dora in blue ink".
Oh, And A Micro-Cryptogram, Too
Also included was a small fragment written by Elgar, noting that he "wrote to [musical instrument dealer] Hill offering to purchase Gagliano [violin]", on a ~5.5cm x ~7cm piece of paper that had "traces of mounting to verso". This is what it looks like (image taken from Sothebys' site):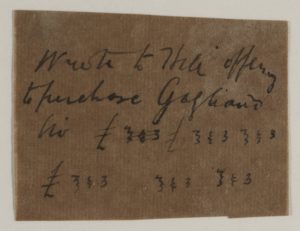 The expected price was £600-£800, but the actual hammer price was £1750.
What seems to have raised the level of buyer interest was the presence of a single three-letter cryptogram repeated six times (though with the first time crossed out), with three of the instances preceded by a '£' sign. Given that this is arguably the shortest cryptogram I've yet posted here, I thought it was well worth dubbing it a "micro-cryptogram".
But… what could this be? And, most importantly, might we be able to crack it?
Ah, It's Also In His Diary
Fortunately, Elgar historians and biographers got there first (after a fashion). For if you turn to p.158 of Jerrold Northrop Moore's (1984) "Edward Elgar: A Creative Life", you will discover that the same micro-cryptogram appears in his diary: "[56] Elgar's diary entry [for buying the eighteenth-century Gagliano violin] follows the £-sign with three squiggled marks". (Figuring that out took me all of thirty seconds, much of which was spent trying to unwedge the copy of "A Creative Life" from the back of the bookshelf it was sitting on.)
So it would seem that what was on sale at Sothebys contained something like pen-trials or rehearsals on a scrap of paper for the same three-glyph cryptogram he added to his diary. Moreover, if we could discover by other means what price the Elgars paid for the Gagliano violin in 1891, then it seems we would be able to solve the cryptogram.
However, having now spent significantly more than thirty seconds trying to determine this (with no success), all I can do is throw it open to you all. How many pounds did the Elgars pay for their Niccolò Gagliano violin in 1891? Find that out and you presumably will have solved possibly the shortest genuine historical cryptogram ever. 🙂
Absence of Provenance Is Not Evidence Of Providence
All the same, I have to say it seems odd to me that the (normally very thorough) Sothebys people failed to pick up on this connection with Elgar's diary. The catalogue entry for the preceding Lot 91 (Lot 91) was much more their normal style, with a rock-solid provenance ("From the collection of Edward Speyer, to whom Elgar gave these manuscripts"): unsurprisingly, that went for a handsom £72,500 (close to the middle of their estimated range).
So… what was the difference with Lot 92? What was its provenance? I can't help but wondering whether the "binding broken, pages loose, wear and some damp-staining" condition of Dora Penny's own copy of her book might be trying to tell us, along with all the photographs hand-annotated by her.
You see, there is one person who could very easily have been the source for this: Dora Penny herself (albeit indirectly).
When I tried to trace the history of the Dorabella Cipher itself a few years ago, I found that it had been part of a a sizeable set of Dora Penny's Elgar-related papers, that had been presented to the Royal College of Music Library "by Mr and Mrs Claud Powell [in] 1986". However, as an RCM archivist I talked with told me, several boxes of this Elgar material were somehow lost (possibly in Leeds?) while being transported to London, and that was the last that was seen of them.
What, then, are the chances that one or more of these cartons ended up in someone's slightly damp garage for the next thirty years, and that this rather poor condition copy of the book is the first sight anyone has seen of these since 1986? Perhaps the seller didn't want to be identified for that reason, in which case it could easily be why the lot was clearly marked as "sold not subject to return", and without a hint of a flicker of a provenance.
Even So, Does It All Add Up?
Even if the above will turn out to be the story behind this item, I have to say that the picture as a whole still doesn't quite ring true to me.
Put simply, I would be a little surprised if Dora Penny had had reason to mount this poor scraggly piece of writing on her wall. After all, she had the Dorabella Cipher itself: this micro-cryptogram is surely very much its poor relation, as well as being unprepossessingly tiny.
Might it be that the person who owned this had had it mounted on his or her wall in their study, sitting next to the Dorabella Cipher itself? What an incredible story that would be! Well… something to think about, anyway. 🙂