I've read a lot – and I really do mean a lot – of Voynich Manuscript-themed (and other genuine-historical-cipher-themed) novels over the years, and I have to say that the whole experience rarely gets any better than just-about-OK-if-there's-nothing-much-on-TV. Yes, even with TV in the nadir-like pit it has winched itself down into these days.
Sad as it is, such novelists' including-an-ancient-unbroken-cipher writing mechanism comes across to reflective readers as rather, I don't know, desperate-and-wanting-to-be-loved (and doubtless someone will tell me an obscure German or Icelandic adjective to describe this more precisely). More precisely, it shouts out "please God, let importing some genuine real-world mystery be enough to distract attention from the countless plot flaws, the unconvincing characters, and the piss-poor writing". And that's before you've even got to page one.
At the same time, none of the above ever hurt Dan Brown, so why not press that button and see where it leads, eh?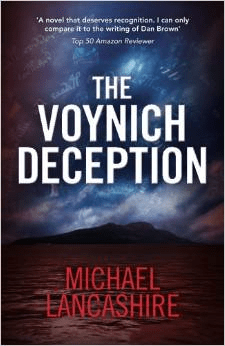 Indeed, Michael Lancashire pressed that very button: and to his credit, his novel "The Voynich Deception" comes out of it basically an OK read. As the backdrop to his story, he has an unfeasibly clever guy ('The Architect') devising unfeasibly-clever-yet-still-oddly-micromanaged evil plans for ambitious crims to buy to execute. The rest of the plot involves a group of brutal, greedy and unlovable – though utterly uninvolving – Albanian gangsters following a blood-soaked trail of Voynich-linked cookie crumbs ever onwards towards a long-concealed treasure trove, where… well, that last bit would be telling, so my lips are sealed.
But at the same time, what I can say is that the structural weakness of "The Voynich Deception" is that while Lancashire's 'Architect' is just an anti-Sherlock Holmesian conceit, the entire story pivots entirely on a single (admittedly fairly large) twist, one which the author flags very early on. As such, it's more like a long short story than a novel: and for all the (occasional spatter of) blood 'n' gore, it does end up feeling a bit… thin.
Still, Lancashire is respectful towards the Voynich Manuscript (which is good), and he tells his story at a fair old pace, something far too many cipher novelists struggle with (hint: a fight they usually lose ignominiously).
The Kindle ebook version is only £1.99, so it's not a huge investment or risk. And if you like The Voynich Deception, Lancashire has since written an Architect prequel novella ("Kernel Panic") for you to move onto. All in all: not my tasse de thé, sure, but a perfectly OK read.