By now, even occasional Cipher Mysteries readers may well know that Yale University Press is about to release a photo-facsimile version of the Voynich Manuscript, its $50 price-point rather less stratospheric than that of the schwizzy Spanish Voynich facsimile that so intrigued the media a few months back. (And for that, if you need to ask the price, you almost certainly can't afford it.)
So, in anticipation of YUP's version's release on 1st November 2016, we now have the start of a mild flurry of promotional activity. For example, if you just happen to be near Yale Law School [it's just across the street from the Beinecke] at 4pm-5pm this Wednesday (26th October 2016), there'll be a talk focusing "on how the publishing process works":
Beinecke Modern Books & Manuscripts Curator and Publications Director Timothy Young will talk with Joseph Calamia, editor at Yale University Press, about the challenges of creating a facsimile of an increasingly popular book and with Beinecke Early Books & Manuscripts Curator Ray Clemens on scholarship related to the Voynich.
And here's an action shot of Ray Clemens, much more fun than the sub-passport-photo stuff you tend to find in online staff directories: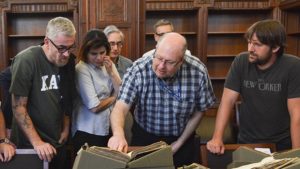 Oh, and here's a photo of Glen S. Miranker having his brains vacuumed out while being shown the Voynich Manuscript by Paula Zyatz (it's some non-disclosure clause, I think):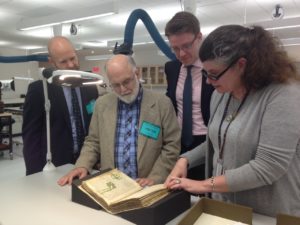 Not entirely relevant, but I thought you'd like to see it. 🙂
The Highs And The Lows
In most ways, a facsimile edition is – in these decorously digital days – an unnecessary slab of bourgeoisiana. The Beinecke has already released two completely independent sets of full-colour digital scans of the pages (both at reasonably good resolution), so I'd be one of the last people to argue that the YUP's reproductions will themselves add anything of significant value to the overall Voynichological discourse.
(Sure, it's annoying for Voynich purists that Jean-Claude Gawsewitch trimmed off many margins in his (2005) mostly-photographic-facsimile "Le Code Voynich": but that was hardly fatal for what was effectively a coffee-table edition, and the Yale version's plates – and even fold-out pages – seem unlikely to be 'academically transformative', let's say).
Yet what of the essays at the front? Will these be enough to achieve the Beinecke's goal of legimitizing the Voynich Manuscript as (a) a genuinely old object, and/or (b) an artefact worthy of serious scholarly study?
Personally, I don't think so. Even though the Beinecke was given the Voynich Manuscript nearly fifty years ago, my opinion is that there is still painfully little genuine foundational research into it. For instance, we still have no idea what the original page order was; what the original quiration was; which paints were original (and which ones were added later); which parts of the various drawings were original (and which were added later); what the writing on the final (non-enciphered) page f116v originally said; nor even from which specific scribal milieu the main body of the writing came from.
Hence the core problem is this: even now, when academics approach the Voynich Manuscript, they do not have sufficient codicological factuality – i.e. about what happened to the manuscript to leave it in its current state – to build anything worthwhile on top of. All of which means that they might easily (but wrongly) be persuaded to place their trust in one of the numerous academic travesties currently being passed off as theories… and for which there is no evidence whatsoever.
One classic academic story used to be about the Professor of German who was well-versed in all the secondary sources, yet couldn't actually speak German. But here, the scenario is arguably even worse: a whole host of academics trying to understand the Voynich Manuscript not through primary evidence, close observation and tight physical reasoning, but through the distorted funfair mirrors of Voynich theories.
All the same, I've ordered myself a copy (arguably with money I should be squirrelling away for Mauritian car hire, *sigh*), and I have little doubt that many Cipher Mysteries readers will be doing the same. Personally, I'd have been happier if the Beinecke had put the effort into getting the basic codicology and science right in time for the manuscript's 50th anniversary in their curatorial hands than into producing what will probably be the tenth or maybe fifteenth coffee-table edition. But… you knew I was going to say that.