I've just heard about an upcoming auction for a Da Vinci Code "cryptex". It's allegedly one of the ones 'potentially' used in the film (whatever 'potentially' means, you'd have to ask an IP lawyer to be sure), but is believed by the auctioneers to be genuine. Which is nice.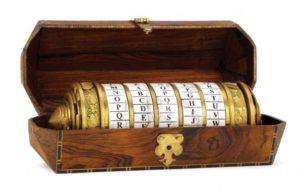 I should add that word on the crypto street (if your street just happens to have lots of collectors) is that movie props are widely forged and can be very hard to prove genuine, so it really is a case of caveat emptor etc.
But if neither your budget nor your appetite for risk will stretch quite that far, you can buy Authorized Cryptex Replicas on eBay (of course you can, that's exactly what eBay is for, isn't it?).